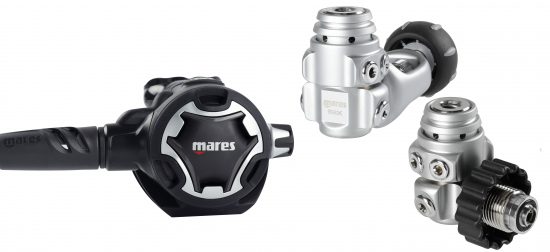 The Dual Adj 62X is now the smallest, most compact first stage ever released by Mares. Now the most lightweight regulator in our line-up, the Dual Adj 62X is the perfect traveling diver's companion worldwide.
The 62X first stage breaks records as the smallest first stage in the diving market, coming in at a mere 63mm in height and weighing only 464g (DIN). This small-but-mighty first stage is 10% smaller and lighter than its 52X predecessor and has 30% less volume.
The 62X first stage may be compact, but it still boasts all of Mares regulators' innovative features, such as Auto Sealing Technology (AST) which protects against water entering the first stage. But we didn't stop there…
The core parts of the 62X were re-designed to generate an even better seal, making this an excellent regulator for cold water diving. The addition of the optional Twin Balanced Piston (TBP), makes this one of the highest performing regulators in cold water.
Specific technical innovations of this first stage's internal workings include a new poppet seat that is now sharper with a smaller cone radius and decreased angle to define the sealing surface better.
The lightweight Dual Adj second stage offers smooth, easy breathing at all depths. Enhanced with a pneumatically assisted design (P.A.D.) and the unique, Mares patented Vortex Assisted Design (VAD) systems, the Dual Adj is second to none in ease of air delivery. The newly designed adjustable breathing knob helps divers enjoy a customized breathing experience, even when wearing thick gloves.
True to the Mares brand, the Dual Adj 62X goes above and beyond all performance tests and will impress even the most seasoned diver. It exceeds performance standards at 200m and uses proven technology at 400m. This highly developed regulator system offers high performance at a very competitive price while still providing all the features needed by today's demanding divers.
Discover more on Mares.com
The post Dual Adj 62X – Introducing the Diving Industry's Smallest First Stage appeared first on Mares – Scuba Diving Blog.
Read MoreDiving, 62X, ADJ, diving, Dual, Dual Adj 62X, first stage, regulator, scubaMares – Scuba Diving Blog