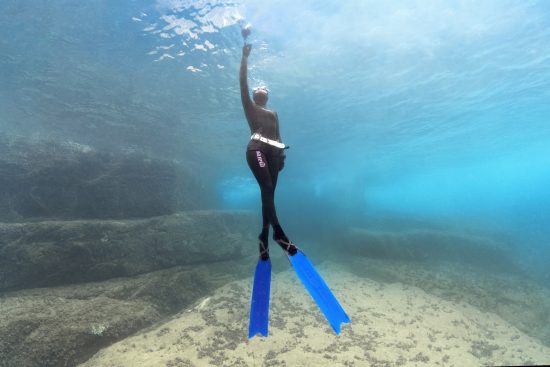 The Prism Skin two-piece exposure suit by Mares brings a new level of neoprene flexibility to the world of freediving. This suit features ultra-stretch smooth neoprene material for the ultimate experience in freediving comfort and easy breathing.
Not only is the Prism suit easy to move around in above and below the water, but its unique inside lining also allows for easy donning. The 3mm smooth neoprene material provides excellent elasticity and outstanding thermal properties, increasing warmth, and your ability to move freely in the water.
The unique material composition of the Prism Skin wetsuit works with you to improve your freediving performance. Its compression resistance helps keep you neutrally buoyant throughout your dive, and the suit's hydrodynamic properties allow for faster ascents and descents.
Increasing comfort due to its stretching ability, the Prism Skin's preformed cut also ensures an excellent fit. The new chin shape fits faces even better than before, and a revised Velcro beavertail closure allows for perfect fitting adjustments. Get a custom-feeling fit without the custom wetsuit price.
Built for freedivers with pure passion, the Prism Skin by Mares offers the ultimate in freediving wetsuit stretch and warmth with a unique, eye-catching graphic design.
Discover more on Mares.com
The post Mares Prism Skin – The Ultimate in Stretch and Warmth appeared first on Mares – Scuba Diving Blog.
Read MoreDiving, freediving, neoprene, Prism, product, pure passion, wetsuitMares – Scuba Diving Blog