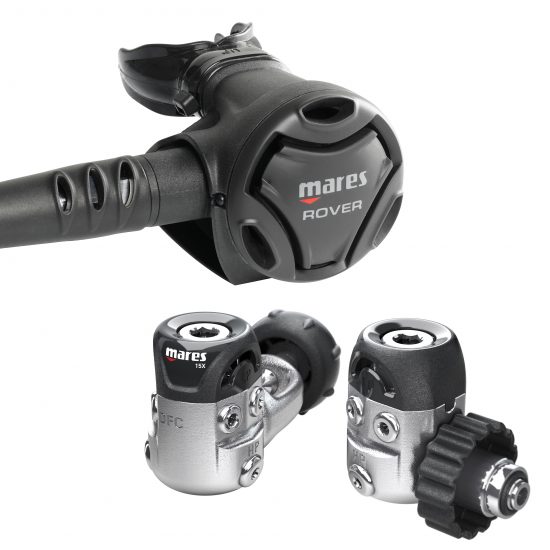 Mares is always looking for ways to improve by continually re-evaluating the product line. Constant innovation is one of the reasons why Mares leads the way in regulator technology. The improvements made to the Rover second stage regulator for the 2021 season are no exception.
Still available with either the 15X or 2S first stages, the Rover second stage boasts many cosmetic and functional upgrades. The new cover design is evident right away, giving the Rover a more technical, robust appearance and fitting in better with the new Mares regulator line. The new cover design is not only aesthetically pleasing, but serves a functional purpose as well, improving purge button operation during use. Due to its wide design, the purge button is easy to access, even when wearing thick gloves.
The new, easy-to-use purge button features a "Dynamic Hinge" design, making the purging feature easy to activate, even with a single finger. It also prevents free flow in strong currents and is made of a long-lasting rubber material that can resist over 113,000 purge cycles. The new Dynamic Hinge design was tested for over 12 months by dive centers in various environments worldwide, including Thailand, Croatia, Egypt, Italy, and Australia, all of which were impressed with the Rover's durability and performance.
The Mares patented Vortex Assisted Design (VAD) system combined with a Fluid Dynamic Deflector (FDD) makes the Rover an extremely reliable, fine-tuned breathing machine. The integration of the VAD and FDD offers divers natural breathing at all depths.
The combination of the Rover's durability and performance make it the ideal regulator for intensive rental use. Pairing the Rover with the Octopus Rover, featuring all of the same re-designs, offers an excellent choice for high-use rental departments.
The post Rover 15X/2S – A Durable, Easy-Breathing Machine appeared first on Mares – Scuba Diving Blog.
Read MoreDiving, diving, product, regulator, Rover, scuba divingMares – Scuba Diving Blog